Scuba Travel Ventures, Inc. -
Baja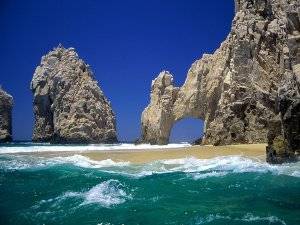 From just across the border in San Diego all the way down south to Cabo San Lucas, this 800-mile Mexican peninsula is a haven for both fiesta seekers sinking their taste buds into chips, salsa and margaritas and big animal loving scuba divers who plunge into the waters of the Sea of Cortez.
Loreto and La Paz are major diving gateways on the peninsula and the laundry list of gargantuan sea creatures includes all the stars: gray whales, hammerhead sharks, whale sharks, sea lions, dolphins, manta rays and more. Divers can explore the northern Sea of Cortez off Loreto, while La Paz is where southern Sea of Cortez diving is done.
In the northern Sea of Cortez, you'll dive into the wonders of Loreto National Marine Park, where nearly 1,000 different species of fish – all native to this body of water – swim. Not only will you encounter the giants of the sea here, but the rocky seascapes are draped with a plethora of invertebrates. There's also the thrilling Humboldt giant squid dive, where – from the protection of a specially-designed cage – you can observe the eerie two-to-six-foot long, color-changing creatures feeding in the shallows. While ashore, take to the road and explore the Baja California outback to visit La Giganta Mountains and Mision San Javier, an incredibly well preserved 18th century church. Or, take a whale watching excursion, where several varieties can be seen, close-up.
Down south in La Paz, you can satisfy your wreck diving appetite by exploring La Salvatierra, an ex-U.S. Navy vessel and on a night dive, spy on sleeping parrotfish hiding out from predators. Elsewhere, swim through the mazes of rocks and caves where schools of tropical fish live. There's plenty to do there, while off-gassing, too, from kayaking and sailing to checking out local museums to just lazing on the beaches.
Scuba Travel ventures has your Baja California vacation covered, offering a variety of resorts in Loreto and La Paz.
Browse Baja
Products
Description:
New Specials Daily 1-800-298-9009 Stride into the waters of Baja California from this luxurious 116-foot live-aboard vessel. Book a berth and you can be one of 24 lucky divers...
More Details »
Description:
New Specials Daily 1-800-298-9009 Sea of Cortez With clear, deep blue waters, abundant sea life, white sand beaches and inspiring vistas, the Sea of Cortez - known as the Gulf...
More Details »
Description:
New Specials Daily 1-800-298-9009 They're the only luxury live-aboard dive vessel departing from Cabo San Lucas, Mexico—well within range of the most exciting diving in the Sea of...
More Details »
---
More About
Baja