Scuba Travel Ventures, Inc. -
Barbados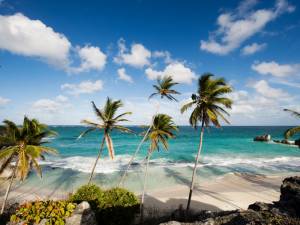 This Windward Island in the Southeastern Caribbean was once a haven for pirates plying the Caribbean Sea to get rich quick from raiding ships carrying treasure. Today, divers get their enrichment from plunging into this magical island's cocktail of reefs and wrecks. Three colorful reef varieties surround Barbados -- fringe, barrier and patch -- all of which make for excellent marcolife encounters. Frogfish, seahorses and giant sand eels are just some of the creatures you'll want to check off on your treasure hunt list, but don't forget to keep an eye out for turtles, barracuda and rays, too.
Wreck enthusiasts are sure to get their thrills by exploring some of the more than 200 charted vessels lying in various states in the waters of Barbados's Carlisle Bay, off its western shores, near Bridgetown. The Stavronikita, in Folkestone Marine Park, is the star attraction and perfect for advanced divers. She's a 365-foot Greek freighter, lying in 120 feet of water, with corals and several marine species having taken up resident inside her.
But beginner divers looking to gain wreck experience can easily navigate the Pamir, a 165-foot vessel, just 60 feet under water and crawling with exciting life, such as snake eels. Other shallow wrecks in the area include the Bajan Queen and the C Trek. Meanwhile, diving the Friars Crag, a Dutch ship purposely sunk in the 1980s, offers the best of both Barbados's dive worlds -- a challenging wreck and a beautiful nearby reef, just a few fin kicks away.
Topside, Barbados is a veritable playground, with fishing, tennis, horseback riding, hiking and golf all available. If you're more a spectator, check out a horse race or a cricket match. If you want to sample the island's famous "adult beverages," take the Mount Gay Rum tour. You don't have to be a pirate to sample this luscious loot.
So call STV today and learn more about why a Barbados dive vacation may be just the cure for your fall and winter blues.
Browse Barbados
Products
Description:
New Specials Daily 1-800-298-9009 Coconut Court Beach Hotel is run by the Blades Family and combines charming Bajan hospitality and good value with an unbeatable beachfront location....
More Details »
Description:
New Specials Daily 1-800-298-9009 On the tropical island of Barbados, along white sandy beaches and nestled in lush plant and tree life, sits the beautiful Divi Southwinds Beach Resort....
More Details »
---
More About
Barbados